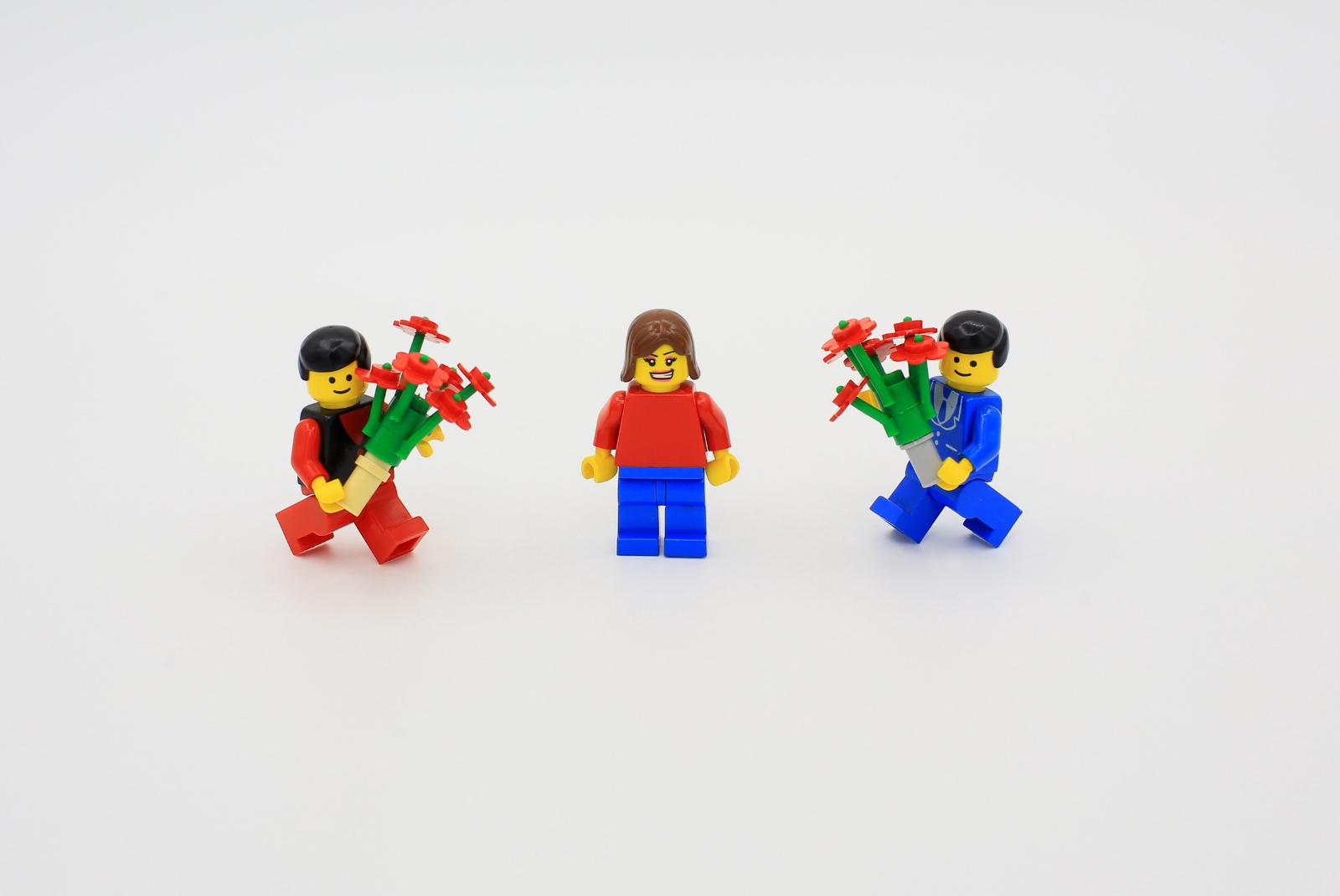 The parents and matchmakers in old times lived in a constant state of distress about the future of their offspring: will my daughter meet a wealthy match? Will my son catch a rich heiress?
It's the same thing for business — constant worries about how to increase sales through the most profitable alliances. Luckily for them, the unbreakable bonds of marriage are out of the question, although in some cases it can seem like an irrevocable decision to choose a software vendor over another one.
After all, brands would love to see customers wedded to them for life, only buying their products and no one else's. Keeping clients happy so they don't feel compelled to leave or look for better options is the main task for businesses. Software systems that give total control, automation and in-depth analysis about customers and loyalty should be a prime target.
So this is a tricky situation: you need to partner with a solid integration software ecosystem that allows you to catch the largest number of customers, and more importantly, the most profitable ones for your type of business. Like an old fashioned matchmaker, these systems help you build relationships and become the star of the ball, the brand every customer wants to dance with.
Do you want a ball packed with happy customers and an organized dancing plan? What software system would be better for you — a strong, expensive solution, or a more affordable and nimble one?
Let's dance!
Table of contents
Being single is better in CRM: If you like a client, put a ring on it.
CRM stands for Customer Relationship Manager, or any Customer Success Platform that connects businesses and clients through sales, e-commerce, marketing, services, communications, and analysis tools, both in the cloud or on site.
The main goal of a Customer Relationship Management system is to promote and ensure business relationships through the right leads, and support companies in the daily tasks of locating those clients, forecasting sales, dealing with customer service processes and interactions, and boosting productivity and conversions.
Customer Relationship Management is both a strategy and a technology aimed at building strong relationships between brands and potential customers, while taking care of preexisting customer databases. That's the reason why a Customer Relationship Manager helps in marketing and sales teams; it's the most important intersection for any business — because the clients are the basis of everything.
Communication is the key for any type of relationship, and that's no less true for business relationships. Ensuring quality and clear interactions with clients (but also partners, distributors, or vendors) is at the core of any successful and forward-looking strategy that recognizes the importance of both acquiring and retaining valuable customers.
What are the main features and benefits of a CRM system?
Complete history of orders, interactions, incidences, and preferences by customer

A single framework to follow the customer's journey and connect every channel (e-mail, phone, live chat, chatbot, messages, social media)

A unique platform for sales, customer service, and marketers teams

Easy-to-use dashboards and records

Reports and metrics on weekly, monthly or annual basis

Centralized information, accessible from one single place

Contact management automation to track activity and leads

Tracking and compilation of e-mail addresses

Supply-chain tracking

Analysis of sales, products, and campaigns performance

Partner management capabilities

Integration with marketing tools

Website content adaptation to visitors

Compilation of customers' social media, and reviews information

Additional calendars and trackings for suppliers, meetings, and more
→ Read more: How to improve customer satisfaction in your business
Salesforce vs. Hubspot: Which CRM system could win your company's heart?
Two gentlemen enter the ballroom — one is very tall, looks a bit stiff, wears expensive clothes, and glances at you just before giving everybody the cold shoulder, and heading off for an hors d'oeuvre. His colleague is shorter, but irradiates some kind of glee; it's obvious that he's eager to dance.
Well, yes, we have stolen a crucial scene in Pride and Prejudice and any other classic romantic novel, but that's exactly how many companies feel when looking for perfect software systems candidates.
Prejudice convinces you that well-established and experienced software companies with an impressive client list will be too expensive. On the other hand, pride makes you believe that cheaper and more agile solutions can be too basic, and harmful for your reputation.
Broadly speaking, Salesforce is an old school multi-tenant cloud solution and it looks like a stronger CRM system by a distance. Hubspot is quick and light on reporting, but it could be too limited for enterprises with dedicated reporting teams that develop more complex strategies and internal workflows.
There will always be Mr. Darcy and Mr. Bingley supporters — what if neither is better than the other, but their appeal depends on the desires and needs of each heart? Which partner will be better at dancing the business polonaise with smaller or bigger companies? The duke of Salesforce, or Hubspot, baronet?
Let's dance with both of them before making any categorical judgements. We have checked the features offered by both Customer Relationship Management companies, as well as the most extended praises and complaints among their users.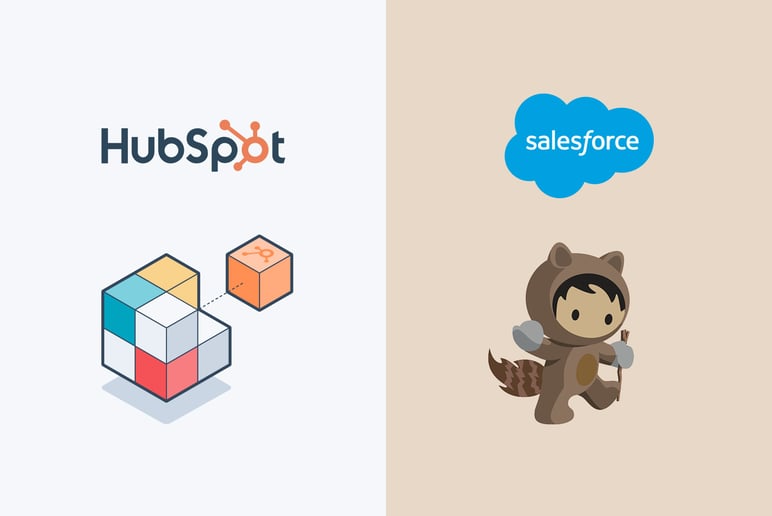 The strengths of Salesforce
Fast implementation via working in the cloud

Automatic and regular updates

Easy-to-use dashboard

Instant changes, updates and access from everywhere

Statistics reports

Tracking of sales entries from different regions

E-mail sync

Third parties systems integration options

Great variety of add-ons

Workflows, messages and tasks across departments
The weak points of Salesforce
Difficulty to restructure preexisting data in the company

Complex campaigns creation and navigation

Unfriendly UX (e.g. the Lightning experience)

Confusing use of user groups

Hard to find information

Complex functions and actions included

Difficulty tailoring to specific industry needs

Not intuitive data reports

Training or expert Salesforce administrator needed

Expensive for small companies
The strengths of Hubspot
Great usability

Easy implementation

Excellent customer support service

Marketing library

Integrated designer for e-mails, CTAs, blog hosting and landing pages

Content quality control features

Distribution of follow up emails to targeted customer segments

Social media and ads tracking

Web analytics

More affordable rates
The weak points of Hubspot
The cheaper options don't include basic features, like A/B testing

Analysis reports could be more in-depth and automated

Costs increase as contacts/leads database grow

Limited social media scheduling tool

Complex list building

Updates with no notifications

No trials for advanced automation features

Training needed to get into the tool (a bit expensive official courses)

Templates not included

Lack of integration with other marketing tools
A case study: How Sales Layer found its best CRM suitor
Our first CRM: Mr. Darcy to the rescue
We trust quality and so early on in the company's life, we went big: Salesforce was the first choice for Sales Layer. But as a startup the CRM was proving to be technical and expensive, we needed an external consultant to properly handle it. It's a good thing to want the best for your company, but despite our quick and steady growth it was not the moment for a high enterprise-level CRM yet.
What do we need a CRM for?
At Sales Layer we need to keep track of leads that come into the business and how much money they spend, based on reports of monthly indicators. A CRM is an essential tool for these tasks, and it supports our sales pipeline and customer success department.
How did we change our CRM?
Salesforce is like a Porsche — big, beautiful and powerful, and we weren't using it to its potential. For enterprise-level companies, Salesforce is a formidable CRM solution, but Hubspot is smaller, more intuitive, and more nimble. Hubspot is your Mini — you can still drive in style, but in a more compact, easy to handle way.
What were the essentials for our new CRM?
When looking for the right Customer Relationship Manager, at Sales Layer we evaluate three key factors: price, software features, and technical support. And, of course, if it includes automation features, which is very important to us (as you would imagine, we are torchbearers of product content management automation!).
We needed a flexible tool that would allow us to work fast and through a simple workflow — Hubspot is the "automated marketing" platform for that purpose. That means that when we change the "lifecycle stage" from "Lead" to "Opportunity", we can automatically send emails to those people inviting them to try a demo, read an ebook, or download a success case with one of Sales Layer's clients.
While with Salesforce we were having some serious issues with API and field synchronization, Hubspot also offers a better connection between marketing and sales, besides being super easy to analyze weekly reports with simple and clear reporting, if not the most in-depth.
How did the CRM migration go?
The more time you can have, the better. Choices made in a hurry and last minute migrations can cause lots of pain, trouble, and (human) mistakes, not only in CRM but with any type of software system, such as our PIM.
At Sales Layer we collected lots of opinions, and it was still far from clear which Customer Relationship Manager was better. It was a crazy but necessary decision — we needed to resync all of the work we had done in Salesforce to Hubspot, and it took around 50 hours total. In the end it was much easier than we first thought.
What are the pros and cons of Salesforce?
Salesforce is great. Salesforce. Is. Great. However, it is geared to the resources and business volume of blue chip enterprises. It has the power of reporting and the ability to track basically anything you wish to track. It's perfect to connect the Customer Relationship Manager to business intelligence tools such as PowerBI, and allows whole teams of people to get exactly what they want from it.
What are the pros and cons of Hubspot?
Hubspot is like an easy friend — it's agile, light, and you can integrate it with tools such as Wistia for videos. It's designed to bring email addresses to your website, and uses cookies to display websites in a certain way to specific people, adapting content on the same url, from images to texts, to the user's interests.
Last night we dreamt we went to Pemberley again: Would we change again our CRM in the future?
As Sales Layer's business volume grows, we know we will need to readapt our software systems and look for a Customer Relationship Management solution with more sophisticated capabilities. Salesforce will definitely be a strong contender when we have to make that decision.
In short, from our experience we believe Salesforce and Hubspot are both fantastic Customer Relationship Management options that just fit different types of companies and wireframe needs.
→ Read more: The differences between a CRM and other key systems
Final thoughts
We cannot emphasize the importance of a CRM system enough, because it should be an undeniable truth — Customer Relationship Management systems enable companies to build a better overview of their customers, sales predictions, and cross-team workflows, and yes, be on the ball!
It's all about integrating your teams, clients, partners, suppliers, reps and distributors in one single platform that promotes customer acquisition, ensures retention, and boosts ROI and productivity.
When it comes to choosing the perfect Customer Relationship Manager for your business, remember to check which features best fit your needs and be honest about the position of your business, your available resources and your growth scope.
On a final note, cloud systems are not necessary always the cheaper option, but they ensure faster implementation and migration, easier scalability, and worldwide access.